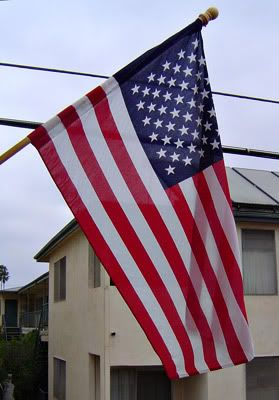 As you can see from today's U.S. flag image, it's a gray, kinda dreary am here at Casa Okie. We're only 11 blocks away from the Palisades bluff overlooking Santa Monica Beach and there one has an unfettered WSW panoramic view of the Pacific. This morning on the dog walk, the water was as gray and angry looking as the sky, with smallish swells breaking finally into tiny waves only a few yards away from the sand. The paper says that south facing beaches will see surf with 8-ft. faces sometime today, and the infamous "Wedge" should have some 15-footers! Ambulances and neck-stabilizers for everybody!!!!
Probably not many of you readers left — haven't written in I can't remember how long now. A stream of mostly steady work will do that to someone like me . . . after 8 hours or so looking at this monitor, doing another couple to blog is something these old eyes aren't liking. Will try to be more consistent though, as I do miss it.
Another big part of it is that I feel that every time I hit Drudge, or Ace, or Google News — the hits they just keep on a comin'! Is Glenn Beck right . . . that we should be preparing for the financial apocalypse? Is Obama going to pack the SCOTUS with hard-lefties that will over time finish the dismantling of the Constitution that he seems so bent to accomplish? Can we take back the House and maybe even the Senate in Nov.? Will the BP oil well ever stop vomiting oil into the gulf? Are we as a society going to let this one disaster force us to abandon the use of fossil fuels and suffer the higher cost of alternate energy sources? Will the Taliban win in Afghanistan and then take over a nuclear-armed Pakistan? Will India nuke Pakistan if that happens? Will Iran finally get nukes, and use them on Israel, or will the Israelis take out the Iranian facilities? Will that begin Armageddon?
Criminy!!! I actually think about these things — worry about these things? Usually about the time I get this worked up I turn to The Anchoress for some comforting words about everything is going to God's plan, but today she has some thoughts on the past, current and future states of our educational system and a great list of July 4th linkage. [1]
Crazy! Obama's approval and disapproval numbers [2] are now statistically the same. He started his term with about 63% approval and only 20% disapproval, and in less than 18 months has lost half the country. Maybe we will take the House and Senate this fall after all.
Over at The Kitchen Cabinet, my home-away-from-home, Sonja Eddings Brown presents a detailed look at the original July 4, 1776 [3]. And I know we've showcased this video before, but today it's totally relevant . . . and still totally awesome! Enjoy.
Hey, stay safe out there — don't be this idiot [4]!
Have yourselves a great Independence Day!!!!!